Wholesale
Submit Application: Application Form

The StyleKorean platform operates a B2B Wholesale network for interested wholesalers, distributors, retailers, online & offline stores and many others. As one of the biggest cosmetic distributors and wholesalers in Korea, StyleKorean exports a wide range of Korean cosmetics to more than 30 different countries including the U.S, China, Japan, Spain, Netherlands, Malaysia, Indonesia, Canada and more. StyleKorean offers worldwide shipping to meet the needs of clients anywhere in the world. Further, the StyleKorean platform simultaneously operates a global B2C online shopping mall service and those market insights can be leveraged by clients in the Wholesale network when deciding between particular products or brands.
Contact Location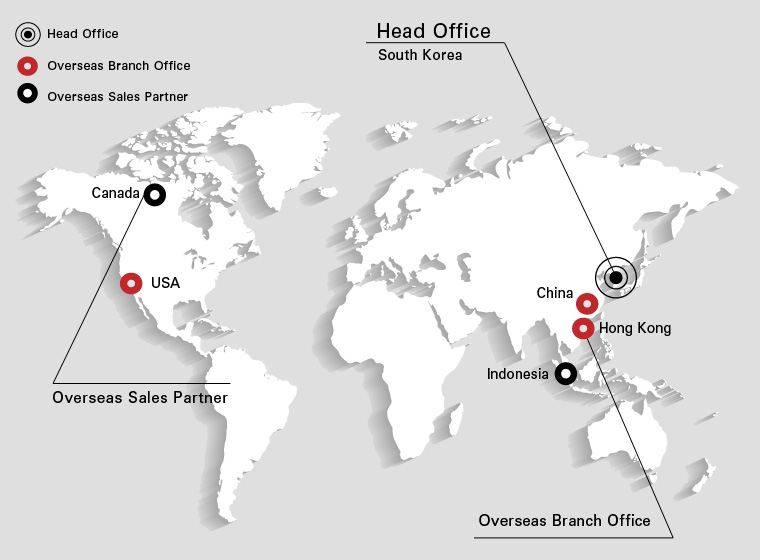 Hong Kong

Shenzhen

Korea

USA

Flat 243-245, 2/F, block B, Cambridge plaza,
188 San Wan Road, Sheung Shui,
New Territories, Hong Kong
Shenzhen (Guangdong) China
Room20B International Trade
Commercial
Building, N0 : 3007, Nanhu Rd, Luohu
District, SZ, China
Warehouse
195-7 Neungpyeong-Li Oppo-Eup
Kyunggi-Do 경기도 오포읍 능평리 195-7
USA Office
17320 Marquardt Ave,
Cerritos, CA 90703
Wholesale mall (Enter shop)
Our StyleKorean Wholesale Mall provides clients with a simple and straightforward order process. If you are interested in joining our global wholesale network and would like access to the mall, we will issue you a login ID and password.
Submit Application: Application Form
After reviewing your application credentials, we will provide you access to the wholesale mall.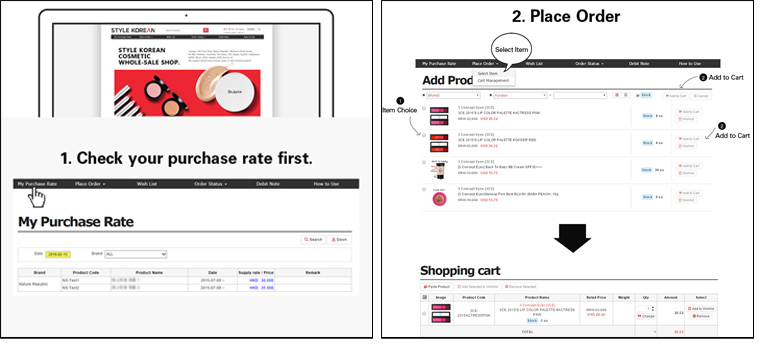 1) Wholesale Process
1. Submit an application to join wholesale network: Application Form
2. StyleKorean will review the application and give you a login ID and password.
3. Enter the wholesale shopping mall and select items of interest.
4. After checking your supply rate, please send StyleKorean a Purchase Order (PO).
5. StyleKorean will send you Proforma Invoice (PI).
6. After checking the PI, please make payment.
7. After payment confirmation, StyleKorean will mail you the parcel (~two weeks, depends on stock inventory).
8. After receiving your parcel, confirm contents of order (e.g. quantity, expiration date, broken seals).
9. If there are any issues, immediately contact StyleKorean so that we can fix the issue.
2) General Terms and conditions
1. Minimum Order Amount (MOA): $2,000 USD per PO
2. Shipping : Customer bears shipping cost
3. Customs issue : Buyers need to check their customs issue before proceeding
4. Payment : 100% T/T before shipping
3) Wholesale Mall Clients (buyers)
1. Resellers or wholesalers
: to distribute the product to local market on a B2B basis
2. Cosmetic stores
: to sell cosmetics in their own store
3. Online shopping mall
: to sell cosmetics in an online shopping mall
4. Spa or Esthetic salons
5. Accessory, clothes business
6. Potential customer
: planning to operate cosmetic businesses
7. Additional
: StyleKorean is open to discussing wholesale solutions. Please submit an application and provide a details about the type of business.
4) StyleKorean Consultation & Client Support
■ Established Clients
① Sourcing cosmetics
② Introduce new items
③ Advise cosmetic trend
④ Counseling to expand a cosmetic business
■ Start-up business Clients
① Consultation regarding Korean cosmetics market
② Business incubator supporting domestic Korean brands
5) Join the StyleKorean Wholesale Mall network
: Submit Application: Application Form

Various Supply Channel
We offer 60+ major Korean cosmetic brands and receive factory direct sourcing positions & purchase products from authorized brand representative Agents. The products we receive and sell are 100% authentic, competitively priced and delivered quickly.
By becoming a client and joining the StyleKorean Wholesale Network, you can enjoy the benefits from our existing B2B and B2C resources. Further, you can expect prompt service, quotations, delivery, access to new product releases and more.
Data Driven Warehouse

We carry 2,000+ unique products in our warehouse in order to readily meet customer demands. Using an automated data driven demand forecast system, we are able to hold stock for the right items at the right time.
Wholesale Door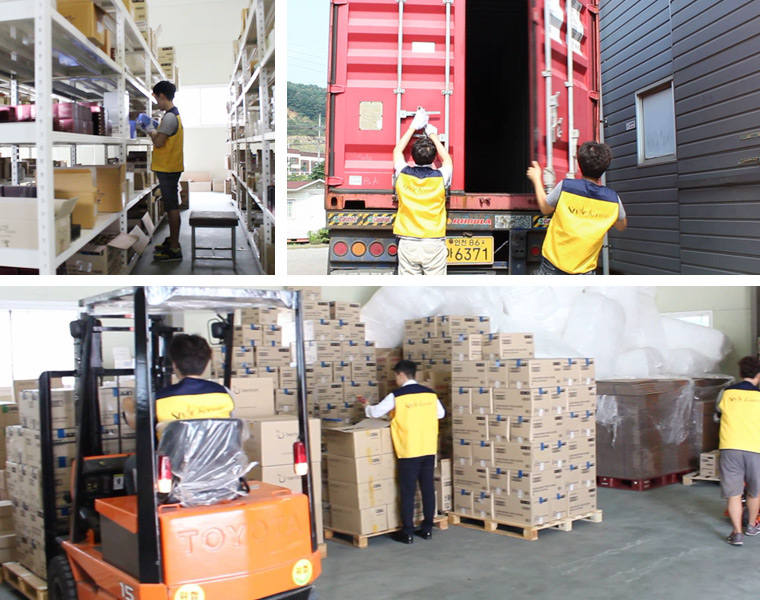 Termination of Wholesale I.D
If you don't place the order after you receive the ID and Password for 3 months, your I.D could be deleted.
Be our guest, we will help your business grow much better.