Wholesale

While Stylekorean.com is B to C platform to sell the product to a consumer, we always welcome Wholesale request from overseas customers including wholesaler, Retailer, online shopping mall, offline store and so on. As one of biggest Korean Cosmetic distributors and wholesalers in Korea, we export a wide range of Korea cosmetics to more than 30 different countries including U.S.A, China, Japan, Spain, Netherland, Malaysia, Indonesia, Canada, and etc.
Contact Location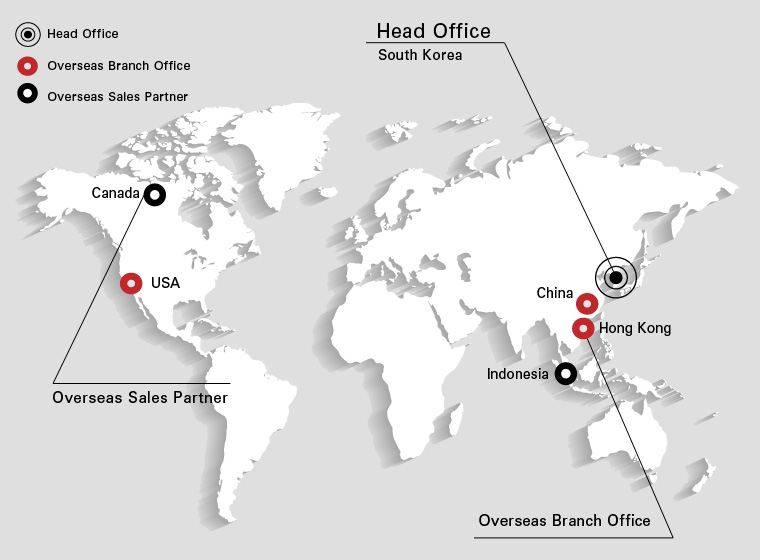 Hong Kong

Shenzhen

Korea

USA

Flat 243-245, 2/F, block B, Cambridge plaza,
188 San Wan Road, Sheung Shui,
New Territories, Hong Kong
Shenzhen (Guangdong) China
Room20B International Trade
Commercial
Building, N0 : 3007, Nanhu Rd, Luohu
District, SZ, China
Warehouse
195-7 Neungpyeong-Li Oppo-Eup
Kyunggi-Do 경기도 오포읍 능평리 195-7
USA Office
14747 Artesia Blvd.,
Suite 3D, La Mirada, CA 90638
Wholesale mall (Go shop)
We run a wholesale mall to provide better support to our customers. Due to closing mall, we issue I.D and password to only wholesale customers after checking customer's information.
If you want to be a our wholesale customer, Please apply Application Form.
After checking all information, we will issue the I.D and Password by email.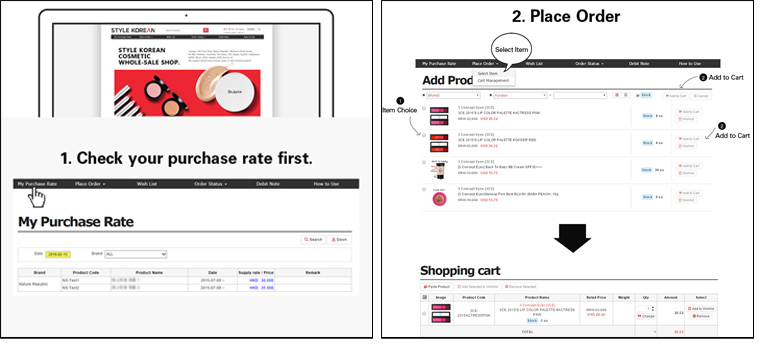 1) Wholesale Process
1. Let us know your interesting brands
2. We will give you I.D. and P.W.
3. After checking your supply rate, please send us Purchase Order (PO)
4. We will send you Proforma Invoice (PI)
5. After checking the PI, please make payment
6. After checking the payment, we will send you the parcel (It usually take two weeks, but it's depending on inventory stock)
7. After receiving your parcel, you may check the products and then if there is any issue such as expiry date, broken,
or not-matched stock q'ty, please let us know so that we can fix the issue
2) General Terms and conditions
1. Minimum Order Amount (MOA) is 2,000 USD per PO
2. Shipping : Customer need to bear shipping cost
3. Customs issue : Buyers need to check their customs issue before proceeding
4. Payment : 100% T/T before shipping
3) Who can be our customers
① Resellers or wholesalers
: to distribute the product to local market in B to B basis
② Cosmetic stores
: to sell cosmetics in own store
③ Online shopping mall
: to sell cosmetics in online mall
④ Spa or Esthetic salons
⑤ Accessory, clothes business
⑥ Potential customer
: planning to operate cosmetic businesses
4) How to supply our customers
■ On going customers
① Sourcing cosmetics
② Introduce new item
③ Advise cosmetic trend
④ Counseling to expand cosmetic business
■ Start-up business customers
① Consult to customer a Korean cosmetic business
② Incubate business to expand Korean brands
5) Make a wholesale I.D.
: Please apply for wholesale account

Various Supply Channel
We handle more than 50 Korean major cosmetic brands and achieve factory direct sourcing position or purchase the product from authorized brand representative Agents. The product we receive and sell are not only original and authentic but also good pricing and quick delivery.
If you become our customer, you can enjoy all these benefit from our existing networking resources, what is more, you receive quick answer, quotation, delivery information, pricing and new product releasing even more.
Warehousing

We keep more than 2,000 different kinds of stocks in our warehouse in order to support our customers demand as quick as possible. With our automatic demand forecast system, we keep the stock for frequently asked items or trendy and seasonal items
Wholesale Door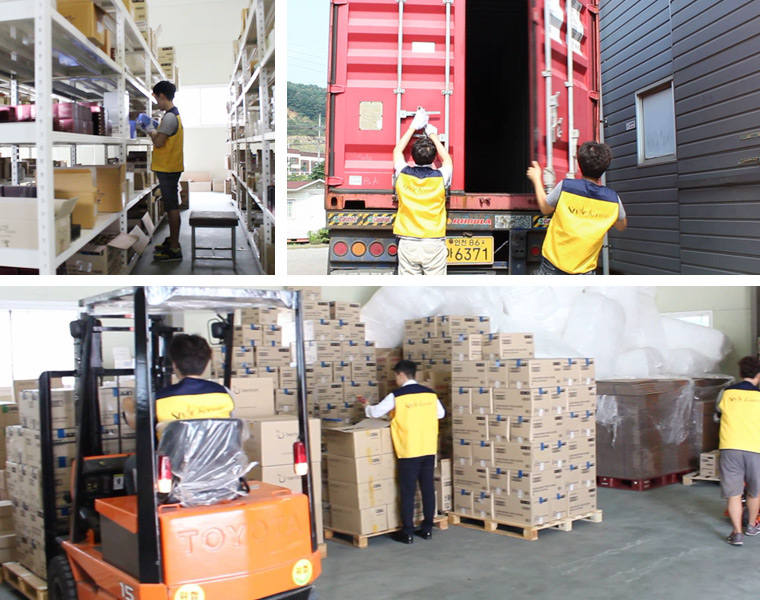 Termination of Wholesale I.D
If you don't place the order after you receive the ID and Password for 3 months, your I.D could be deleted.
Be our guest, we will help your business grow much better.