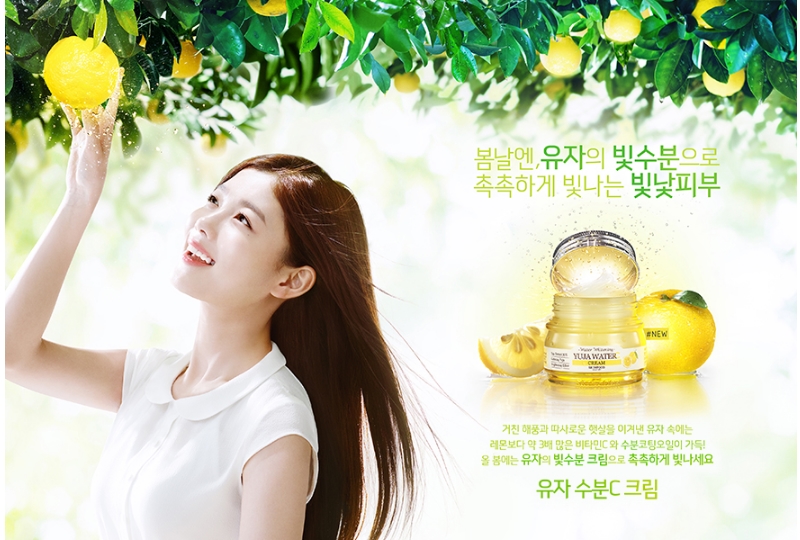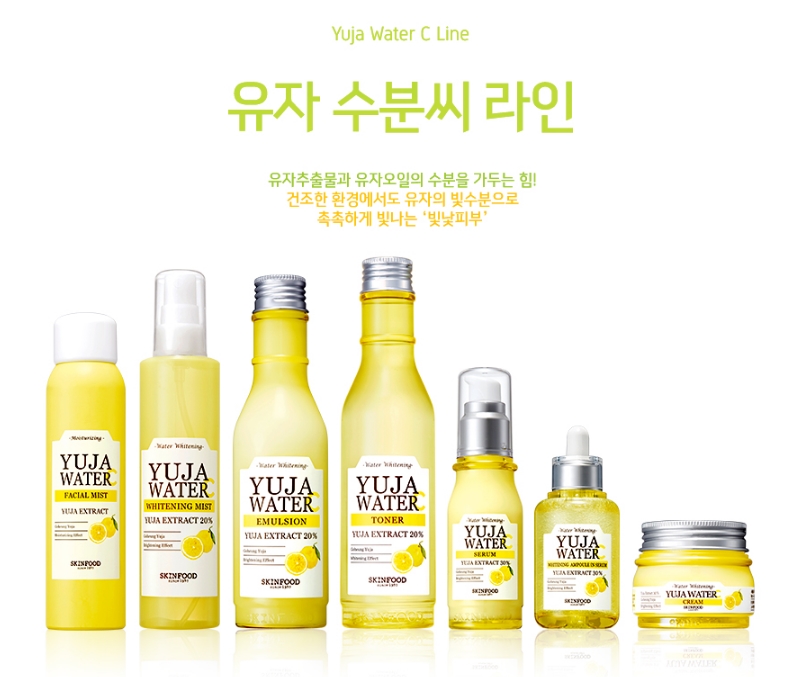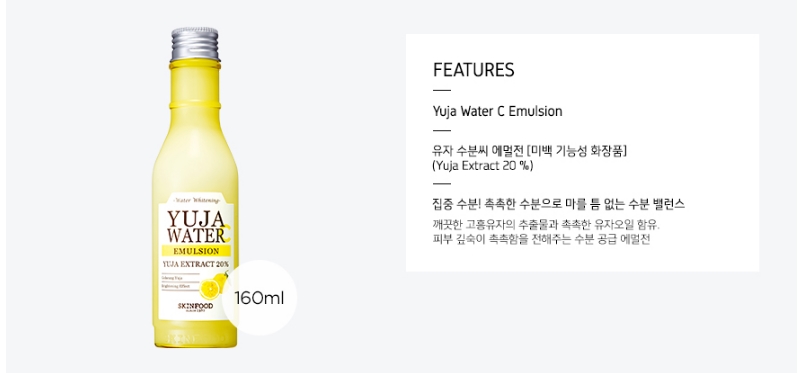 Description
An intensely hydrating emulsion that contains organic Goheung yuja extract and oil to restore skin's oil-moisture balance.
How SKINFOOD Yu-ses Yuja
The yuja fruits in SKINFOOD's Yuja Water C line are Goheung organic yujas, grown by artisan Taehwa Park, Korea's only and first yuja artisan.
Grown with organic fertilizer made from seawater and organic compounds, our yujas boast no pesticides and chemical fertilizers. Healthy skin starts with healthy food, and our yujas are the cream of the crop.
Who Should Try Yuja? If You…
-Have skin that looks oily on the surface, but is dehydrated inside
-Are concerned about dull-looking skin
-Have dry skin but don't like creams that are too oily or thick
-Want glowing skin
-Are looking to hydrate and brighten skin at the same time
Suggested Use
Use right amount to apply onto face and let it absorb.
Ingredients
Purified water, citron extract (20%), Glycerin, Butylene Glycol, niacinamide, ethanol, Cyclopentasiloxane, isostearyl neo-pentanoate, Caprylic / Capric Triglyceride, C14-22 alcohol, beta-glucan di mechi konol, cetearyl alcohol, sodium carbomer, C12-20 alkyl glucosides, echil hexyl glycerin, glycol stearate eseuyi, broccoli extract, aloe vera leaf extract, fruit Bergamot oil, stearic acid, sorbitan tree trunk extract, hydro jeneyi suited lecithin, disodium this is dt, wanggyul peel oil, maltodextrin, citron five days (16 mg), corn starch, Mexican juniper oil, glucose, caprylic rilgeul glycol, 1,2-hexane diol, echil ethylhexyl palmitate, Lactobacillus fermented dissolved water filtration, sodium ascorbyl phosphate, -10 polyglyceryl oleate, ascorbyl tetra isopropyl palmitate, phenoxyethanol